We Remember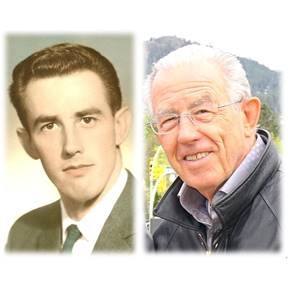 ONGARO, Max Louie
November 19, 1938 — May 7, 2020
Max Louie Ongaro peacefully passed into the arms of his heavenly Father on May 7th, 2020 after a very brief decline in health.
If the way Max's warmth, smile and kindness toward every person he met was ever measured against the saying by Robert Ingersol, "We rise by lifting others", those who knew Max would probably agree he could have landed on the moon. One of Max's greatest joys was to brighten someone's day with a greeting and, up until October 2018, many who worked in the Landmark District of Kelowna could attest to this.
Max was born November 19, 1938 in Summerland, British Columbia to Carmelo and Mary Ongaro (née Betuzzi). They and their families were Italian immigrants, happy to be making new lives in Canada. Max has a younger sister, Jo-Ann and a large extended family. Max grew up surrounded by people who knew the value of faith, family, working together, having fun and being a supportive community.
After his schooling in Summerland, Max worked on a couple different projects like the construction of the Okanagan Lake Provincial Park Campgrounds before moving to Toronto to continue his post-secondary education. His plan was always to return to the Okanagan Valley, both for the surroundings but mostly for his family. He was educated in electronics engineering and business administration. He worked at Collins Radio and eventually IBM.
It was in Toronto that Max met a French-Canadian beauty, he called "Joanie". They were married in 1963 in Mattawa, Ontario, Joan's hometown and enjoyed a loving 51-year zany and zesty life-long companionship. In 1968 Max and Joan moved to Rutland, B.C. where they could be closer to Max's family. Max began an over 20-year career with White Trucks, eventually known as Western Star Trucks. Max and Joan raised their three children: Denise (Monty) Scott, Dana (Doug) Howe and Dean (Christine) Ongaro.
Max was predeceased by his parents Carmelo and Mary Ongaro. Max will be missed by his sister Jo-Ann, brother-in- law (Tom) Knight and their daughters Margaret Knight & Karen (Correy) McWhirter. Max's passing is also felt by the countless cousins he grew up with from the Leardo, Betuzzi, Biollo, Blagborne and Grant families. Max was also a beloved brother-in-law to Joan's family and will be missed by her siblings and their families: Jean (Peter) Harcus, Jesse Lance (Johanne), Anita Turcotte, Earl Turcotte (Anna), Colette (Peter) Stanisci, Michael (Rhonda) Turcotte, brother-in-law Mike Westley, and Glenn (Deborah) Turcotte. He will also be lovingly remembered by his many friends and those who asked or considered him to be their Dad, Uncle or Grandpa over the years, a great privilege Max held very close to his heart.
In 1997 Max and Joan started a new life in Fort St. John, B.C. They made many good friends and adopted 3 grandchildren. In 2003 Max retired from Peacock Inc. so he and Joan could return to Kelowna, back with their family again, and travel. Later, Max came out of retirement a couple times but in October 2018, just before his 80th birthday, Max retired for the last time after coordinating the parking at the Landmark Buildings for several years. There he very much enjoyed being part of the team at ASC Construction where he enjoyed the camaraderie and was treated with great honour.
In the midst of all this, Max saw his family grow to include 12 grandchildren and 6 great grandchildren. Max loved playing with all of them and was the type of Papa, Grandpa, and GGP (Great-Grandpapa) that would get right down on the floor to play.
Over the years, Max and Joan were involved with many Christian communities including: Holy Spirit Catholic Parish, Cursillo, Full Gospel Businessmen's Association, COR, New Life Church, Christian Life Assembly (Fort St. John), Epic City Church and Kelowna Gospel Fellowship.
Being extroverts, Max and Joan also loved hosting and attending large parties and having guests in their home over the decades. He loved gardening, doing projects with his friends, skiing, fishing, hunting and kayaking. If Max was with people, he was happy. Max was known for his genuine accepting smile and kindness. He was supportive, encouraging and could see past people's hostility, remaining calm and patient in all kinds of situations. Max's greatest joy and desire was to see his family grow in relationship with Jesus Christ and that others would experience the love of God through him.
In light of present circumstances, a private service was held and live streamed on May 9th, 2020, officiated by James Beamish (see link below). On May 11, 2020 Max was interned with Joan at Kelowna Memorial Park Cemetery, 1991 Bernard Ave., Section G2; Block 21; Row 1; Lot 1. Click here for a map of the Kelowna Memorial Park Cemetery.
For those who wish to give in memory of Max, he enjoyed opportunities to support Hope for The Nations, Freedom's Door Kelowna and Okanagan Valley Pregnancy Care Center.
Our deepest gratitude goes out Dr. Grant Smith and the teams at Cara Center and Spring Valley Care Centre. Your skilled, respectful, and compassionate care our Dad and our family could not be more appreciated.
For those who would like an opportunity to see the Celebration of Max's Life please click here, or on the live stream video below. If you wish to send a condolence, post photos or share a memory, please scroll down the page to the area called "Condolences".