We Remember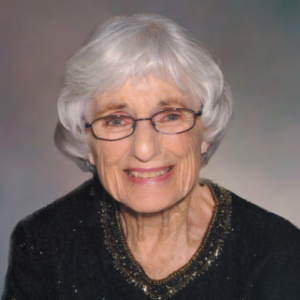 PUGH, Elizabeth Mary (née Lawson, Liesemer)
August 5, 1927 — November 24, 2021
On November 24, 2021, Elizabeth gently left her beloved family. Her children Susan Birnie-Browne and Brian Liesemer both of Calgary, AB, along with her daughter Jane Stevenson of Kelowna, BC encircled her with love for this final journey.
Elizabeth "Bets" was predeceased by her early love and father of their children, Stewart Vincent Liesemer, and her late-in-life loving adventure-partner, Geoffrey Ernest Pugh.
Elizabeth grew up in Kingston, Ontario. Her lifelong childhood friends, Jan Masters (née Caldwel) and Don McCullough, remember her as a lively, athletic, community minded, and cultured young woman. Elizabeth loved animals, and she lived most of her life with a dog by her side.
While raising their family in Calgary, Elizabeth and Stewart rarely let a weekend go by without a camping, hiking, or sailing adventure. Elizabeth easily drew people to her, allowing them to feel comfortable and cared for. Elizabeth's passions moved with her to Kelowna: hiking, cycling, playing bridge and volunteering at the hospital. She also delighted in watching her grandchildren and great-grandchildren follow their own dreams.
Elizabeth always had a smile for everyone. She will be remembered by all as a caring, gracious lady. She will be deeply missed.
As Elizabeth's family, we join together in giving our sincere thanks to the exceptionally caring staff at the Village At Mill Creek.
If you wish to send a condolence, post photos, or share a memory, please scroll down the page to the area called "Condolences".