We Remember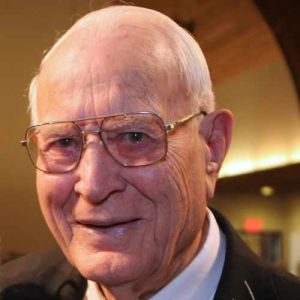 REIMCHE, Harold Edward
August 18, 1920 — August 29, 2021
Passed away in the Kelowna General Hospital at the age of 101.
Harold Reimche was born in Fox Valley Saskatchewan to Philip and Magdalena Reimche. The family later moved to Alberta and then to Rutland, BC. This is where Harold decided to attend college in Alberta. He graduated from Canadian Union College (now Burman University) with a degree in Theology in 1947.
He married Mary Penner and they began their ministry in Alberta. From there the family moved to Ontario, British Columbia, New York, Maryland, and finally back to BC where he retired back in Kelowna.
He served as a pastor throughout his life and well into his retirement. His passion for helping others discover his friend Jesus motivated his life. He was known throughout his life as a quiet, supportive and loving peacemaker and caregiver.
He is predeceased by his first wife, Mary who passed away in November 2011 and his second wife Sylvia Ganz Tkachuk, who passed away in Jan 2019. He is also predeceased by his parents, four brothers (Albert, Ben, Ron, Oscar) and two sisters (Esther, Martha) as well as two grandsons (Jason and Douglas Houser).
Harold leaves to mourn his children Al Reimche (Beth), Donavon Reimche (Carol), Jackie Urbanek (Richard), DellaRose Reimche (John Pijl), and stepson Perry Tkachuk (Suntharee). He also leaves his brother Herb Reimche; his sisters Claire Ritchey, Brenda Bui, and Gail Morris. Harold had 10 grandchildren (Jonathan Reimche, Jayne Johnson, David Reimche, Michael Reimche, Stephen Reimche, Andrew Reimche, Sarah Reimche, Crystal Moon, Daniel Moon, and Adrian Houser) and seven great-grandchildren. He also leaves numerous nieces and nephews as well as many extended family members. Harold will be remembered by his family and friends as a wonderful husband and father/grandfather, a kind and gentle man with a warm smile, and a godly leader.
The family would like to thank Sun Pointe Village and his niece Twyla Gimbel for their wonderful support and care for Harold these past couple of years.
He'll be laid to rest at a private family graveside service at the Kelowna Memorial Park Cemetery in Kelowna B.C.
If you wish to send a condolence, post photos, or share a memory, please scroll down the page to the area called "Condolences".