We Remember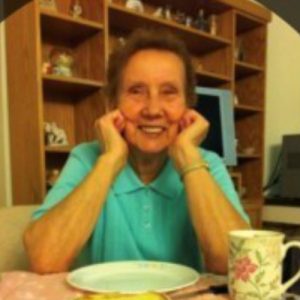 REIMER, Erna (née Eichhorst)
January 5, 1934 — December 10, 2021
Sadly, on December 10, 2021, Erna passed away at Abbotsford Hospital, losing her battle to COVID-19. She was survived by her husband, Gerhard Falk, who passed on March 30, 2022.
Erna was one of the last Superheroes in our family story.
Erna is predeceased by her first husband Aron Reimer (d. 2009); and sons: Arnold (d. 1962), Siegfried (d. 1975), Werner (d. 1975), Arno (d. 1981), and Edward (d. 1988); also parents Emma & Jakob Eichhorst; sister Magdelene; and brother Walter.
Surviving family includes: nieces Marta Bartlette, Erna Stiles (Doug); nephew Peter Loewen; great-nieces Tiffany Eichhorst (Joseph), Regan Stiles, Rachel Stiles, and Chantal Kalyniuk (Darren); great-nephew William Eichhorst (Carla); and her great-great-nieces Olivia Kalyniuk, Autumn Stiles, Caira Eichhorst; great-great-nephews Logan Lobo (Krista), Jaryd Lobo (Hailea), and Jakob Kalyniuk; not to be outdone, Erna was also blessed by a great-great-great-niece Raine Lobo.  She is also survived by Gerhard Falk's family: Mervin, Natasha, Taylor, Joshua, and Nicole.
Erna left behind a large family, even though her immediate family left her first. Her life began fleeing from the Communists from before birth. She lived in terror most of her childhood, fleeing and surviving. She witnessed the abduction and incarceration of her Papa by The Communists during The Great Terror, and this proved to be a pivotal moment that affected the rest of her life. Children from WWII only survived their traumas, never healing from them. After the war ended, from Germany, her mother Emma took her three young children on the Monarch Charlton to Paraguay in 1948 to start a new life. Erna earned her Nursing Degree in Chaco, Paraguay. She soon met Aron, married and started a family. Erna was an example of grace in the years that followed. Her 5 sons had accidents and illness, resulting in each of their deaths over a span of 25 years. Through each cruel twist her life took, Erna remained steadfast in her faith. She leaned completely into it. With that spiritual fortification, she led an exemplary life of service to God. She studied scripture enthusiastically until weeks before her passing. Her greatest joys included her Mission work, starting with returning to Germany, Mexico, Africa and visiting many other countries over the years. Travelling and giving her testimony were really the highlights in her life. Erna enjoyed RVing with Aron and also with Gerhard, these two men made her feel safe and secure while helping her keep the sunshine on her face. Erna continued to volunteer at the MCC up until her death, continuing her need to serve. Among her many talents, we the family, really appreciated her baking! The best a kid could hope for and her quest to always learn something new. We all know Erna is now at peace and reunited with her 'boys' in heaven.
Rest easy Sunshine, your work on earth is done. You are loved and will be missed.
A graveside service will be held on WEDNESDAY, JUNE 22, 2022, AT 10:00 AM AT KELOWNA MEMORIAL PARK CEMETERY, 1991 Bernard Ave, Kelowna, with Pastor Arnie Peters, officiating. If you are unable to attend in person, please join the family online by Livestream at the time of the service (see below), a recording will be made available to view shortly thereafter.
If you wish to send a condolence, post photos, or share a memory, please scroll down the page to the area called "Condolences".
LIVESTREAM:
Service
WEDNESDAY, JUNE 22, 2022, AT 10:00 AM
Location
KELOWNA MEMORIAL PARK CEMETERY