We Remember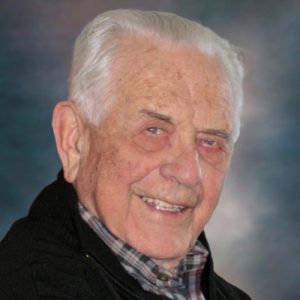 SCHWAB, Paul
—
Beloved Husband, Father and Friend
Paul went home to be with his Lord on August 24, 2020, at the age of 97 years. He leaves behind Edna, his loving wife of 68 years, and their 2 daughters, Beverly Newell and Gayle (Bruce) Cormier.
Paul was born in a farmhouse near the tiny town Stornoway, Saskatchewan, to Jacob and Susanna Schwab, German immigrants from Russia. He was the third of five children. He hated cows, did not mind horses, really liked cars, so, at the age of 25, he left farming behind and became an auto mechanic in Winnipeg, Manitoba. There he met Edna Klein at a church social. They were married in 1952 and their family grew with the arrivals of daughters, Beverly and Gayle. Their life was full of church events, softball games, golfing, curling, and visits to the family back in Saskatchewan.
In 1987, they retired from their jobs to Kelowna, and thought they had arrived in Paradise! They continued to golf (5 days a week!), pick fruit and curl in the winter. Dad loved to sing, and they travelled to Europe with the International Choir. They also travelled on their own, and with friends, to other destinations around the world. And finally, when they were blessed with grandchildren Tara, Andrew and Sarah, they eagerly looked forward to their visits.
They were committed Christians their whole lives and dedicated many hours to their church families in Winnipeg and Kelowna.
After Dad had a stroke at the age of 88, life slowed down, but they still thoroughly enjoyed their lovely home.
He passed away unexpectedly, but peacefully at the great age of 97, with his family by his side.
He was a wonderful husband and father, funny, kind, and gentle. We always knew we were loved and prayed for every day of our lives.
A Private Service to celebrate his well-lived life will be held, it will be Livestreamed on Friday, August 28, 2020, at 10:30 AM (see link below).
If you wish to send a condolence, post photos or share a memory please scroll down the page to the area called "Condolences".
THIS SERVICE WILL BE LIVE STREAMED/BROADCAST ON FRIDAY, AUGUST 28, 2020, AT 10:30 AM.