We Remember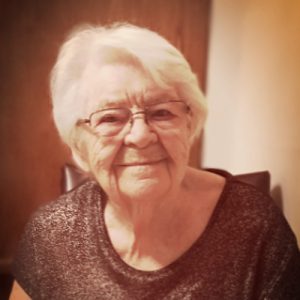 SOLAR, Betty Pearl (née Hawrysh)
—
1928 – 2021
Betty Solar passed away peacefully in Kelowna, BC on February 8, 2021, at the age of 92.
Betty was predeceased by, Lawrence, her loving husband of 56 years. She was also predeceased by three brothers, Steve, John and Alex and sister Pat. Betty is survived by Patricia (Ken) Stroud, John, and Julie-Ann; grandchildren, Chadwick Stroud, and Raquel (Brent) Thors; 4 great-grandchildren; and 3 great-great-grandchildren. She was affectionately known by all beloved nieces and nephews as Aunty Betty.
Betty was born in Venlaw, Manitoba in 1928. Betty enjoyed her independence as a single woman who worked at Laura Secord and as a waitress at a fine dining restaurant in Windsor, Ontario.
Betty was an avid sports fan cheering on hockey and baseball teams. Never afraid of any challenge and to that end she took swimming lessons late in life. Betty also earned many trophies for her skill and sportsmanship in bowling and curling.  If there were a trophy for cooking and baking, she certainly would have added that to her Trophy Case too.  Betty was an artist at heart and took up oil painting and later dabbled in charcoal art as well she designed many a Ukrainian Cross Stitch blouses, kneeling blankets and prayer book covers.
Betty along with her husband Lawrence moved throughout the prairies and later ventured as far south as Brazil at which point became fluent in yet her third language of Portuguese, Ukrainian and English.  Expecting to retire in Dauphin, Manitoba, they surprised themselves and retired in Summerland, BC.
Betty had such a great marriage with her husband Lawrence, that they renewed their vows for their 50th Wedding Anniversary.
To say Betty was a strong woman is an understatement.  Betty survived quadruple heart bypass surgery, bowel cancer, breast cancer and broken femur. Unfortunately, her heart was not able to keep up with her zest for life.
Betty will be remembered for her open heart, Great Spirit and giving ways.
In lieu of flowers, donations may be made to the Heart and Stroke Foundation.
For those who wish to pay their respects to Betty the viewing will be online by Livestream tonight, February 11, 2021 at 6:30 pm (see below). A recording will be made available to view shortly thereafter. 
The Funeral Service will be available to view online through Sts Peter and Paul Ukrainian Orthodox Church on Friday, February 12, 2021 at 11:00 am at:  www.youtube.com/watch?v=oOzZ7uRpVIA
If you wish to send a condolence, post photos, or share a memory please scroll down the page to the area called "Condolences".