We Remember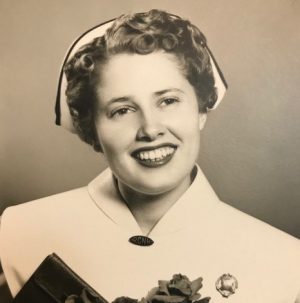 SQUIRE, Shirley
March 22, 1935 — September 16, 2020
Our family is sad to announce the passing of Shirley Squire. Shirley was born on March 22, 1935 and passed away September 16, 2020.
Shirley was born in Pleasantdale, Saskatchewan to Bertha and Colin Ashmead. She had two brothers, Frank and "Nornie", who both predeceased her. She is survived by her daughters Pam (Owen), Robyn and Stacey (Fernando); and grandchildren Tayler, Laine, Claire, Mia, Madelyn, Max and Quin.
Shirley trained as a RN at the Grey Nuns Hospital in Regina, Saskatchewan and pursued a career in nursing. She met Gordon Squire in Weyburn, Saskatchewan and the two were soon married on April 5, 1958, moved to Regina and had three daughters, Pam, Robyn and Stacey. The family remained in Regina and Shirley stepped back from her nursing career to raise her daughters. Shirley and Gord were divorced in 1977 and Shirley, Robyn, and Stacey moved to Kelowna, British Columbia  where Shirley resumed her nursing career, her love for travel, gardening, and food. She later met Bill MacLaughlin, and they had many happy years together fishing, travelling down to the southern US for winters, and hosting their grown children and grandchildren at  their home in Winfield, British Columbia.
Shirley developed Alzheimer's and spent the last 11 years in various units of the Good Samaritans Mountainview Village in Kelowna. The family wish to express their sincerest gratitude for the excellent care Shirley received during that time from the staff and from Dr. Angela Andruchow.
A Service and Celebration of Life will be held on Saturday, October 24, 2020 at 1:00 pm at Springfield Funeral Home, 2020 Springfield Rd, Kelowna, BC. Due to Covid-19 restrictions the number of attendees will be limited, if you wish to attend please click here to sign up. If you are unable to attend in person, please join the family online by Livestream (see below).
If you wish to send a condolence, post photos or share a memory please scroll down the page to the area called "Condolences".
THIS SERVICE WILL BE LIVESTREAMED/BROADCAST ON SATURDAY, OCTOBER 24, 2020 AT 1:00 PM
Service
Saturday, October 24, 2020 at 1:00 pm
Location
Springfield Funeral Home