We Remember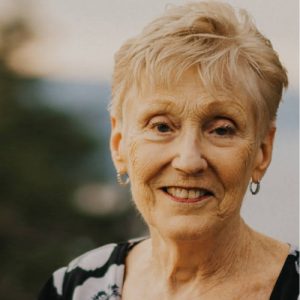 SYLVESTER, Sharon
April 25, 1943 — January 25, 2023
On January 25, 2023, Sharon Sylvester died peacefully at the age of 79. Sharon was preceded in death by her birth mother, Helen Bangs, and her adopted parents R.P. "Tiny" and Marie Walrod, as well as her first husband James "Jimmy" Blank and her beloved husband of over 25 years, Eugine Barrie. She is survived by her son Paul Blank and daughter-in-law Shirley Stapleton, both of Fort McMurray, AB.
A true child of Kelowna, Sharon was born there to her birth mother, Helen Bangs, who gave her up for adoption to Riley Paul "Tiny" and Marie Walrod. Sharon continued to live in BC, including Powell River and Vancouver, before returning to Kelowna for her retirement. Throughout her life, Sharon had a wonderful and dry sense of humour, and she was caring and thoughtful. She loved beaches and swimming in the Okanagan and around the world, and she greatly enjoyed aqua-fit classes. Sharon was a great animal lover and a lifelong advocate against animal cruelty. She was a Wheel of Fortune and Jeopardy fan and had a well-known lifelong unrequited crush on the actor and singer Harry Belafonte. She believed in giving back to her community and volunteered at Midget Hockey Tournaments for many years, cheering for the young players from the Athol Murray College of Notre Dame. "Go Hounds!"
The loss of Sharon is profound; she will remain in the hearts of her son and daughter-in-law as long as theirs are beating.
In lieu of flowers, donations may be made to the BC SPCA.
A Celebration of Life will be held on MONDAY, APRIL 24, 2023, at 1:00 PM, at Springfield Funeral Home, 2020 Springfield Road, Kelowna, BC.
If you wish to send a condolence, post photos, or share a memory, please scroll down the page to the area called "Condolences".
Service
MONDAY, APRIL 24, 2023, at 1:00 PM
Location
SPRINGFIELD FUNERAL HOME
Share with Others:
Service Information
Service Details
The service for SYLVESTER, Sharon is scheduled for MONDAY, APRIL 24, 2023, at 1:00 PM. Below you will find the map for the service location and the contact information should you have any questions.