We Remember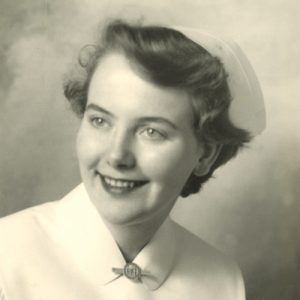 VINCENT, Vivian Audrey (née Stott)
June 18, 1931 — March 10, 2021
It is with heavy hearts that the family of Vivian Vincent announce her passing on March 10, 2021, in Kelowna, BC, at age 89.
Born in Newcastle Bridge, NB, Vivian was the fifth child born to Arnold and Mary Jane Stott.  While growing up, Vivian lived in various towns in New Brunswick and Nova Scotia. By 1949, she was living in Halifax, NS and was a student nurse at the Children's Hospital, following in her mother's footsteps. Her  life took her many places, living in multiple provinces, and even different countries for short periods (USA, Australia, and New Zealand).
Vivian fell in love with Dr. Merville O. Vincent, and they were married on June 26, 1954, in Saint John, NB, in the Main Street Baptist Church; the groom's father officiated the ceremony. Merv and Vivian added four children to their family while living in Ann Arbor, MI, USA. Vivian was an attentive mother and supportive wife, supporting Merv at home and in the work place. She would become a part-time marital co-therapist with Merv for 9 years, and when they later moved to Salmon Arm, BC where Merv had a private psychiatric practice, she was the Office Administrative Assistant.  They would eventually retire to Kelowna, BC in 2001.
Vivian had a special gift of hospitality and caring. This was evident when people came to stay with them – often in times of need. She ensured that their home was an "open-house" for the children's friends and in later years, brought her mother-in-law into her home as she cared for her during her illness. She was devoted to many church activities: she taught Sunday School; was the first female deacon of First Baptist in Guelph, ON for 3 years; for over a decade, Merv and Vivian held a college and career group in their home; she was involved with The Living Room program to help women in need; and she was part of the CMDS wive's weekly bible study for 15 years.
Vivian's avocations centred around her love of crafts, her love of nature, her love of music, and her love of cooking – she made something new almost weekly.  Her crafting skills included crocheting, tatting, quilting, appliquéing, sewing, knitting, crewel embroidery, and other crafting activities for special occasions. She loved being in nature and enjoyed hiking, boating, swimming, "birding", cross country skiing, travel, and golf – she thought the scenery was the best part of the game. Vivian always loved her dogs. She was a shy but accomplished pianist who later in life revived her skills with additional lessons. She loved attending the symphony, opera, and ballet, and was delighted when she heard the bagpipes. Having enjoyed novels from childhood on, she was an avid reader. She had a talent for making a house into a home – which her family had the good fortune of enjoying.
We are proud of how Vivian lived her life and are very fortunate to have shared time with her. She leaves behind her loving husband of 66 years, Merv Vincent; their children Merville "Mel" (Deb) of Comox BC, Mark (Kathy) of Owen Sound, ON, and the twins Dwight (Donna) of Goderich, ON and Duane (Cathy) of Kelowna, BC. Their family grew to include 10 grandchildren and 12 great-grandchildren. Vivian is survived by her siblings, George and Marion, and was predeceased by her brother Nelson, twin brothers Everett and Edward, and sister Doreen.
A Memorial Service will be held to honour Vivian, due to the current pandemic restrictions it will be by invitation only. However, the family would like to invite all who want to pay their respects to join online by Livestream on Tuesday, March 16, 2021 at 1:00 pm (see below). A recording will be made available to view shortly thereafter.
If you wish to send a condolence, post photos, or share a memory please scroll down the page to the area called "Condolences".
LIVESTREAM: