We Remember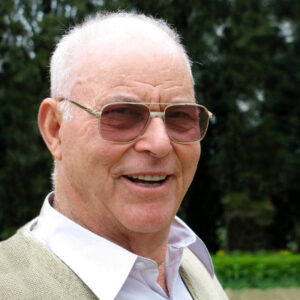 VIOLA, Vittorio
March 25, 1927 — April 25, 2023
Vittorio Viola "Victor" passed away peacefully in his sleep, surrounded by family, at the age of 96. Born on March 25, 1927, in Torano Castello, Italy; he passed away on April 25, 2023, at Mission Creek Landing in Kelowna, BC.
Victor will be remembered most for his strong will, proud nature, persistence, and resiliency.  He was predeceased by his wife of 65 years, Rosa, and is survived by his four children, Tony, Pamela, Elina and Sue; his granddaughters, Angela, Alicia, Julia, Nicole, Cecilia, Stephanie, and Anne; and his great-grandchildren, Coen, Adalyn, Simon, Cole, Max, and Quentin.
After training in the Italian military, marrying Rosa, and achieving his certification as an olive tree specialist in Italy, Victor immigrated to Canada in 1951. He often recalled the challenges of making his way in his new country. Working as a wood cutter, cutting firewood in the forests of Manitoba in the early days; then with the Northern Alberta Railways between Edmonton and Dawson Creek, BC; Victor finally settled in Dawson Creek, where together with Rosa, he made a life for his family. Over the years he worked in the rail yard, then as a construction labourer and pipe layer. In the sixties, he joined the Carpenter's Union and began work as a carpenter at the W.C. Bennett Dam site.  Acting on a passion to work the land, he purchased a small parcel of land in the Peace River District and was an active grain farmer. In retirement, Victor and Rose relocated to Kelowna. He was the first of the Viola family to emigrate from Italy, and he sponsored a number of his siblings to also make the journey to a new life in Canada.
Victor was an avid vegetable gardener and hobby arborist. The vast array of vegetables and his rainbow of fruit varieties all grafted onto a single tree, along with the watermelons, figs, and olives he experimented with in his Kelowna garden were all amazing.  He loved to fish in the many lakes around Kelowna, he would take family, especially grandchildren, along when he could. He became an accomplished crib player, playing well into his 90s with whoever was up for a game. Victor leaves us with many memories of a life well lived.
The family would like to thank the staff at Mission Creek Landing for their kind and considerate care of Victor during the past five years.
In lieu of flowers, the family requests memorial donations be made to the Heart & Stroke Foundation.
A Funeral Service will be held on FRIDAY, MAY 12, 2023, at 10:00 AM (PST), at SPRINGFIELD FUNERAL HOME, 2020 Springfield Road, Kelowna, BC. If you are unable to attend in person, please join the family online by Livestream at the time of the service (see below), a recording will be made available to view shortly thereafter.
If you wish to send a condolence, post photos, or share a memory, please scroll down the page to the area called "Condolences".
LIVESTREAM:
Service
FRIDAY, MAY 12, 2023, at 10:00 AM (PST)
Location
SPRINGFIELD FUNERAL HOME
Share with Others:
Service Information
Service Details
The service for VIOLA, Vittorio is scheduled for FRIDAY, MAY 12, 2023, at 10:00 AM (PST). Below you will find the map for the service location and the contact information should you have any questions.