We Remember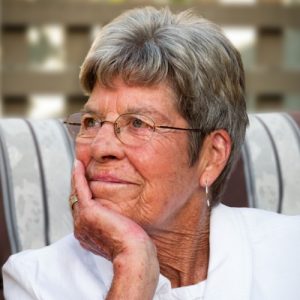 VOGEL, Patricia "Pat" Elsie
—
1937-2021
Pat was born in Kelowna on March 17, 1937 and passed away peacefully on February 4, 2021 in Kelowna, BC.
Predeceased by her parents Violet and Carl Frankie, husband Bernie, son Larry, and sister Val Patrick, she is survived by daughter Darcy Vogel (Sabina Hill); sister Lois Grove, brother-in-law Don Patrick; nieces Jo-Anne Grove and Cathy (Brian) Scrimshaw and nephews Bryon (Margaret) Grove and Michael (Margie) Patrick.
Pat grew up in Mission BC, where she met Bernie, who would become the love of her life. They were married in 1957 and lived in Vancouver until 1970, when they moved to Kelowna with their two children, Larry and Darcy. The sunny Okanagan captured their hearts, and they never looked back.
Pat was a caring and fun-loving person with a great sense of humour. Family and friends were her top priority; she cherished the traditions associated with both, as well as the time she and Bernie spent in their second home at Fairmont and the many trips to his professional conventions. She also enjoyed attending church, reading, and going for walks. She took particular pleasure in the flowers Bernie, an avid gardener, grew, even painting her front door yellow when the daffodils bloomed one springtime.
Pat bowled, skied, golfed, and even tried water skiing, but she was best at floating in the pool on an air mattress. She was a sports fan (Toronto Blue Jays, World Series, Grey Cup, and figure skating) but was especially proud when watching her daughter's various sporting activities.
The family would like to thank the wonderful staff at Pine Acres Home, whose loving care was unequalled, as well as the staff of Healthy at Home for their companionship with Pat. A very special thank-you goes to Ken and Lorraine Wiebe, for all their support.
Due to Covid-19 there will be no service. Cremation will be followed by a private family virtual celebration of Pat's life. In honour of Pat please consider donating to the charity of your choice.
Condolences may be sent to the family directly to Darcy via dvogelUBC@gmail.com scroll down the page to the area called "Condolences".