We Remember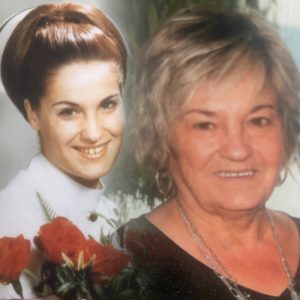 WAMMER, Sharon Suzanne
March 15, 1949 — July 21, 2022
The family of Sharon Wammer is sad to announce her passing on July 21, 2022, in Kelowna, BC, at the age of 73 years.
Sharon is survived by Winston, her loving husband of 52 years; her children Paul and Shannon (Darren); grandchildren Tai and Phoenix; brother Murray; sister Dawn; and stepsiblings Joe, Jim, Rick, and Debbie.  She was predeceased by her parents Joe and Olive Watts; and her brother Earl.
Born March 15, 1949, in Toronto, Ontario, Sharon moved to Regina, Saskatchewan at a young age and grew up there until she graduated from the Grey Nuns Hospital Nursing School as an RN in 1969. Pediatrics was her specialty. By then, she had already met her husband (Winston) and they moved to Edmonton, AB in 1970, as Winston was new to being a pilot and had to take the best job he could get. Sharon was the rock. She could work anywhere as a nurse, and she did – all over the place. So, to Edmonton they went in 1970; then off to Yellowknife, NT in 1971; and then back full circle to St. Albert, AB in 1972. In 1972, after working in many hospitals as a pediatric nurse, Sharon started to work at Misercordia Hospital in Edmonton. In 1973, Sharon, Winston, son Paul (age 2), and soon-to-be-newborn daughter Shannon moved to Spruce Grove, AB, where they would live until 1989. During this time, Sharon continued to work for Misercordia and the University of Alberta hospital.
In 1989, Sharon and Winston moved to West Kelowna in BC and Sharon started to work on getting her Bachelor of Science in Nursing from the University of Victoria. Finally, in 1997 Sharon fulfilled a longtime dream and completed her Masters of Nursing Studies from Deakin University.
Sharon was a pillar in her professional community, she managed Long Term Care programs for Interior Health and even managed Long Term Care Homes such as Village at Mill Creek. When Sharon fell ill, she had many visitors from her time in both fields, and the respect they had for her was amazing. Professionally, Sharon was courteous, determined, and a great leader. Personally, she was the ultimate caregiver, kind and compassionate.  As a mother, she was understanding, caring, supportive, and non-stop loving to her family – in anything we did together.
She will be sorely missed.
The Wammer Family would like to thank the Interior Health Professionals that came to her home for care. Their care and attention will never be forgotten. The family would also like to thank the Hospice House for all the care she had, right to her last breath. We are forever grateful.
In lieu of flowers or donations, Sharon would like you to get together with your family and share each other's company. Family is everything.
A Celebration of Life will be held on Saturday, September 24, 2022, at the family home in West Kelowna.
If you wish to send a condolence, post photos, or share a memory, please scroll down the page to the area called "Condolences".
Service
Saturday, September 24, 2022
Location
at the family home in West Kelowna
Share with Others: