We Remember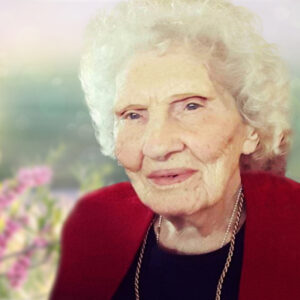 WENSRICH, Loverne Rebecca "Loverna"
August 4, 1914 — September 10, 2023
At the remarkable age of 109, Loverna Wensrich peacefully passed away at Lakeview Lodge in West Kelowna, BC, on September 10, 2023. Born in the year 1914 as the second youngest of 14 siblings, Loverna held the distinction of being the last surviving member of her family.
Throughout her long and eventful life, Loverna bore witness to a multitude of historical transformations. From the exuberant Roaring Twenties, though she was still in her youth, to the challenges of the Great Depression, the upheavals of two World Wars, a population explosion, and the dawning of the Information Age, Loverna experienced a century of change and progress.
The mother of 4 children, Loverna has gone to join the two who passed before her: her daughter, Esther (d. March 22, 2023) who passed at the age of 87, and her son Ronald (September 21, 2018) who passed at the age of 80.  Her memory will be cherished by her surviving children, Brent (Jeanna) Wensrich and Diane (Murdock) Bowen; her grandchildren, Celene, Linda, Alan, Richard, Brock, Dana, Mark, and Marni; as well as by her many great-grandchildren. Loverna was also predeceased by her loving husband, Roy (d. March 19, 1993).
Loverna had a fondness for bowling, cooking, and knitting. She had a knack for preparing delicious roast dinners, crafting heavenly angel food cakes, and baking mouthwatering chocolate chip cookies.
We each will honour Loverna's life in our own way, as she requested not to have a formal service.