We Remember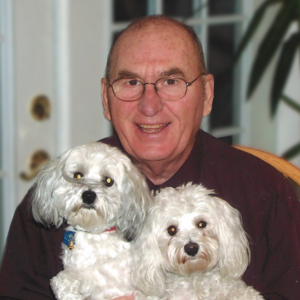 WOLF, Gilbert Ferdinand "Bert"
—
1931 – 2020
Gilbert Ferdinand "Bert" Wolf passed away peacefully on June 2, 2020 at the age of 89. Survived by loving wife, Karen Krout, as well as numerous nieces and nephews, two of whom, Jim Strachan (Lisa) and Grant (Val), live in Kelowna, BC. Bert was predeceased by his parents, Peter and Theresa Wolf and all 12 brothers and sisters: Aloysius "Louie", Theresa, Mary, Peter, Frances, Michael, Joseph, John, Raymond, Anne, Celeste, and Henrietta "Hedy".
Remembered by one friend as "the gentlest soul I've ever met", Bert was born in Carmel, Saskatchewan in 1931, the twelfth of thirteen children.  Bert helped out on the farm as a child and recently said that was the happiest time of his life, even though it was hard work. Once his chores were done, he was free to roam the farm, pick berries, and lie on his back and watch clouds and at night, stars and the aurora borealis.  He loved working with the animals, especially the big draft horses (the farming was done mostly with horses).
At age 17, he left the farm for Calgary, AB where he worked at various jobs until he heard that Calgary Power was starting a computer department, offering to train new employees. He worked there for a time before getting a job as a computer programmer/analyst at Gulf Oil, where for many years he was the head of the accounting division.  He was promoted to a pay grade which was created for him (13) since the company would not allow someone without a University degree to be promoted above graduates. Because of his life on the farm where they couldn't afford to replace equipment but had to figure out how to fix things, he had tremendous problem-solving skills which served him well in his job at Gulf Oil.  He took computer courses and management courses, including the Dale Carnegie course, where he eventually became a teacher. One year he was given a bonus and a 6-week vacation, so he went to Spain and England and Scotland, where he played golf.
He was active in sports from childhood, learning to skate and play hockey on a pond, he became adept enough that he was scouted by the New York Rangers, and he won a trip to Winnipeg, MB where he met his brother Mike for the first time.  He played softball and in later life he was an avid golfer.  When Gulf Oil downsized he thought, "Great! Now I can play more golf".  In Calgary he played at the Royal Golf Club, later renamed the Elks Golf Club.  One of the first things he did upon arriving in Kelowna was to join the Okanagan Golf Club where he played several days a week and with the men's Monday group for about 13 years.
A deeply spiritual man, he often went to daily Mass, where in 1990 he met the love of his life Karen Krout.  They were married on July 16, 1991, a date which they chose because it was the feast day of Our Lady of Mount Carmel. He remembered gathering on July 16 every year with people from nearby communities at the statue of Our Lady, which was on a hill about a mile from the farm.
In 2003, Bert and Karen moved to the Okanagan for the longer golf season as well as for the fresh fruit and vegetables available in the Okanagan. They chose Kelowna because it was a city which had a Symphony and a lively music scene and happened to be the home of his sister Anne and her family.  Bert and Karen traveled quite often to visit family, both in Canada and the United States where Karen's family lives. In 2015, they went to Europe for a classical music cruise on the Danube River and in 2017 to Costa Rica. They enjoyed skiing and hiking and playing golf together both in Alberta and BC and frequently attended classical concerts in Kelowna and Calgary.
Special thanks to our family in Kelowna, Jim and Lisa Strachan and their children James and Nicole, as well as to Lisa's parents Sharon and Mario Cerminara for all the love and support we've received over the years, especially in the final months of Bert's life. Also, a large thank-you to the staff at Mission Creek Landing, especially to Isobel, Lynn, Nicole, Andrea, and Julie who were so generous with their time on Bert's last evening.  The care aids and nurses and other staff were always very loving and respectful, truly showing love for their charges.
A Private Funeral Service will be celebrated on Thursday, June 11, 2020 with Father Gabriel presiding, due to Covid-19 gathering restrictions there is limited seating. For those family and friends unable to attend, the service will be Livestreamed (see below). In lieu of flowers, donations may be made to the Kidney Foundation of Canada, kidney.ca, or to a charity of your choice.
If you wish to send a condolence, post photos or share a memory, please scroll down the page to the area called "Condolences".
THIS SERVICE WILL BE LIVE STREAMED/BROADCAST THURSDAY, JUNE 11, 2020 AT 2:00 PM.